#
CLOUD 9 WALKERS
"A Texas/National Gaited Horse Experience"
Barefoot or Lite Shod Quality, Sane Pleasure Tennessee Walking Horses For Sale With Extensive Camping and Trail Riding Experience, Natural Horsemanship Training
Stetson — Mellow and gentle gorgeous 4-yr-old 15H dappled grey Tennessee Walking Horse gelding directly by Lined With Cash and out of a Generator/Pusher mare. Stetson is really versatile, as he is very level headed and sensible on the trails, and also has the classy movements and talent required for the show ring. Most people would probably feel safe on him. $6500***SOLD***
***SOLD*** Congratulations, Nancy!
Boogie — 7-yr-old 15H (just a little under) black white spotted Tennessee Walking Horse spirited mare, probably gentle for most people (advanced beginner and up) to ride. She is a direct daughter of the World Grand Champion Calvin Klein , and performs a thrilling true racking gait, unless you ask her to perform her true, head-shaking walking gait. Boogie has been to the ocean, to the lake, on camping trips and to indoor arenas to play around. She has won blue ribbons in the show ring with youth riders and then I've had a blast riding her through the forest on our camping trips. $5500***SOLD***
Click on her photo to go to her page to see all of her adventures!
Congratulations to little Liv from Washington State
on the purchase of our beloved Alen's Painted Desert!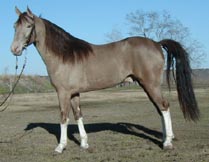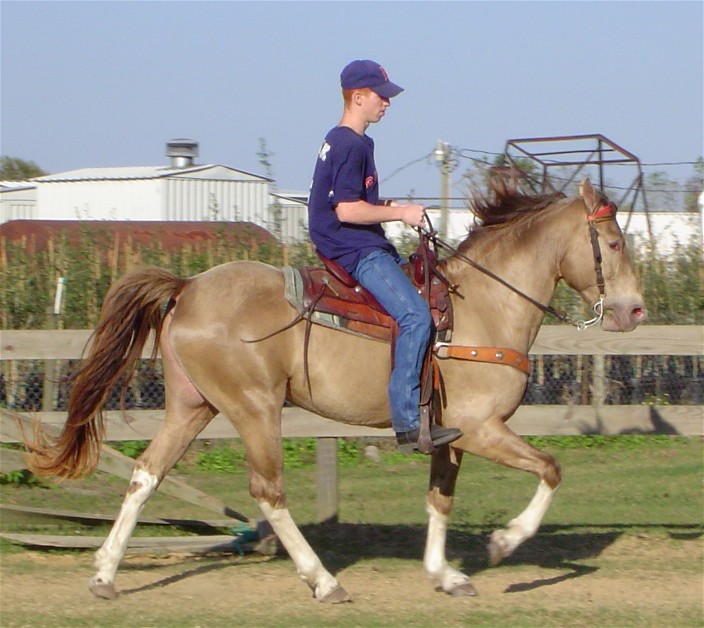 Go Boy's Champagne Pride , known around the barn as Gunsmoke
Want a Tennessee Walking Horse that looks like this? Check out our baby page to buy your own Tennessee Walking Horse colt/filly sired by this stallion and other beautiful stallions.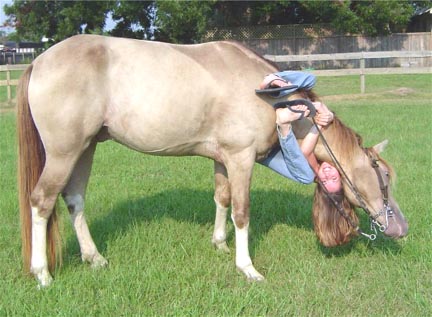 WARNING: This stallion ( Go Boy's Champagne Pride , also known as Gunsmoke ) may not be exciting enough for your taste. (Click on his picture to go to his page.) This is the first time (on 9/1/05) that he has been ridden in two years, and Jennifer chose to ride him bareback. She thought (actually hoped) that he would challenge her riding skills, and after a 20-minute workout with no misbehavior for her to practice her horse whispering on, she couldn't decide whether to challenge him herself or hug him, so she did both!!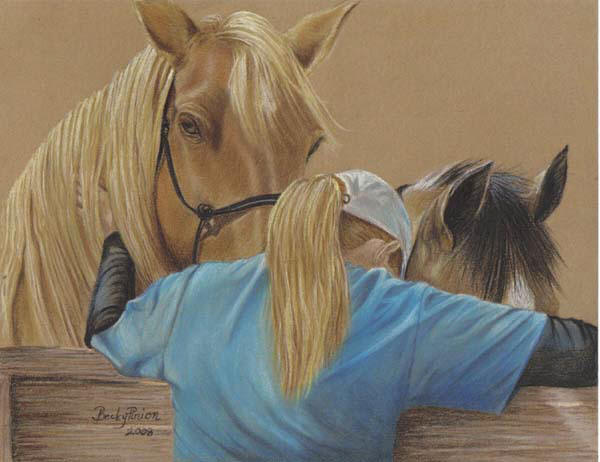 Want a personal portrait of your loved one (Horse, Dog, etc.)? Click on this picture to see more info.
Congratulations, Hannah and PattyCake on your FFA Showmanship Grand Championship!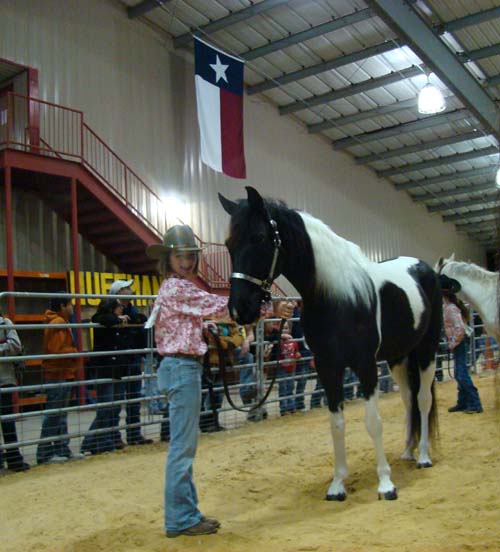 Click on Hannah and Pattycake's picture ABOVE to see video of their win.
WARNING: Horses are addictive substances, Click HERE for testimony.
C lick here:
to see happy new owners! And.
Click here: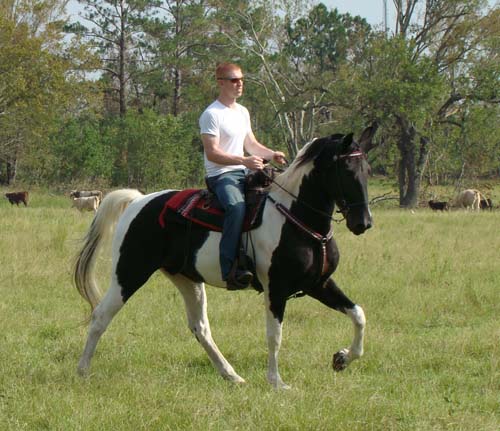 to see horses that we've sold previously.
And click here: to see our secret
(Why our horses are happy and well-behaved!)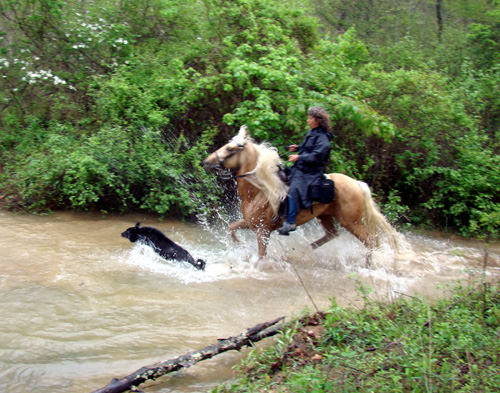 Click on dancing horses at LEFT or on Lynn riding Pistolero at RIGHT to go to our Good Times page to see all the activities we do with the horses, and trips that we take. More pics and videos coming soon!
All of the Tennessee Walking Horses are registered with the Tennessee Walking Horse Breeders' Exhibitors' Association, unless otherwise stated. Some are also registered with the Racking Horse Breeders' Association and/or the Spotted Saddle Horse Breeders' Exhibitors' Association (or National Spotted Saddle Horse Association), and all have current negative coggins report (within one year).
Click above to email me.
NOTICE: We are not a 9-5 business, and since we work and travel a lot, we show horses on an appointment basis. Please be sure to call and set up an appointment before driving out here — we'd hate for you to make the drive and then us not even be home for a few days! (We state this now because it has happened a couple of times already.)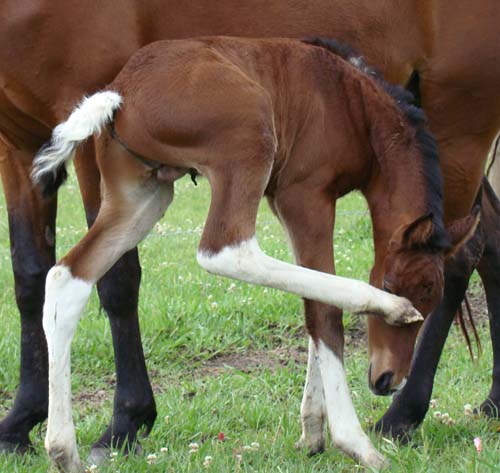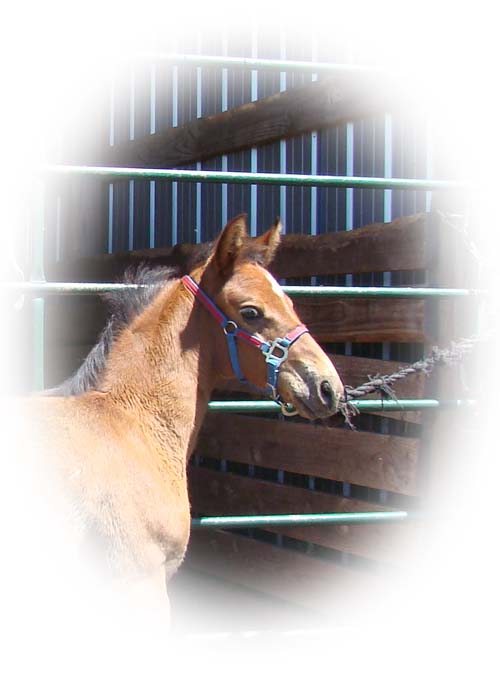 Click on either picture to see weanlings/yearlings for sale!